SPEAK is a collaborative project that began in Portugal, where it now has a presence in a dozen cities, and has since spread into Europe and beyond. Using its Online to Offline model, SPEAK sets up groups in which volunteer buddies teach their languages to newcomers. Almayuda supports SPEAK as it gets established in Madrid.
Every week, around 3 million people move to a new city. A change brought about by war or serious financial difficulties that force them to uproot. New arrivals face many difficulties: no friends, no family, paperwork hassles and ethnic and religious discrimination, for example. But the major obstacle is the language barrier: how can you deal with all the other challenges if you do not speak the language of your host country?
Learning the local language is key, therefore, to successful integration! SPEAK's success comes from the fact that it has grasped that it is possible to fulfil two aims with a single action: using language transmission to create places for people to meet, share and forge links.
The SPEAK model
SPEAK uses an 'Online to Offline' model. People who want to join the community, either as students or as buddies, begin by registering on the speak.social platform, available in several languages: English, German, Italian, Portuguese and Spanish.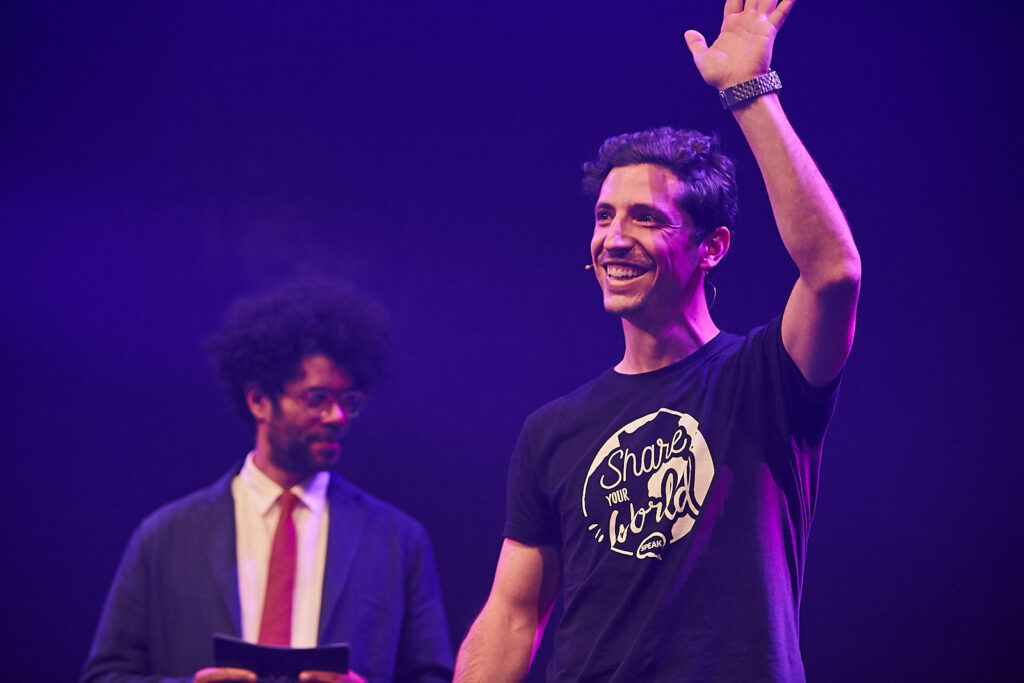 By paying a modest contribution (under €30) online, students can join a language group led by a buddy. They then have a credit of 18 hours, divided into 12 90-minute-long sessions. When they register, students can choose between two levels, 'basic' and 'conversational', in an Online or Offline group. SPEAK recommends the Offline option, but the COVID pandemic has meant that online courses have had to increase as a stopgap measure.
Buddies, volunteer leaders of a language group, register for free. They are motivated by curiosity, a desire to meet people from other cultures and to share with them. If at some point they want or need to learn or improve a language other than their own, they can join a language group free of charge.
SPEAK is an open community that everyone can join: outsiders who want to integrate into a city, as well as locals who want to help newcomers or to learn about and understand cultures and languages that are in many cases far from their own. What matters most is that the meeting between people from very different backgrounds, on an equal footing and in a relaxed atmosphere, gives rise to strong and lifechanging relationships.
What do you talk about in SPEAK?
SPEAK offers informal teaching based on conversation and the provision of educational tools. The aim is to help students who have been immersed, often forcibly, in a cultural and linguistic bath far removed their own points of reference to become independent as quickly as they can.
What do they need? Firstly, to dress, to eat, to get their bearings, to travel about, to introduce themselves to others, etc. Then, very soon thereafter, to better understand the way of life, codes and rituals in the country they have moved to in order to establish social relations, look for work, discover entertainment and so forth.
SPEAK therefore treats learning these particular elements as a priority, as they are all key to starting a new life. And as people learn from each other, they break down barriers and shatter prejudices, organise events (such as treasure hunts and cookery sessions), become friends and develop an informal support network. Mutual help opens up opportunities— finding rented accommodation, work, etc.—that contribute to improved social inclusion.
In Madrid too…
According to UN figures, there were 272 million migrants worldwide in 2019. And forced displacements can only increase given the growing tensions around the world and increasing climate-related disasters.
In view of such challenges, the community solution that SPEAK offers would seem to be very modest. Even so, it exists and day in, day out, in more and more cities, it helps to reduce cultural stigmatisation by demonstrating the richness of multiculturalism to local communities. Every day, in bars, libraries and association premises, people give each other advice, discover opportunities, develop a sense of belonging and forge networks.
So, even if it is only a drop in the ocean, SPEAK is worth helping as it expands its altruistic operations. This is what Almayuda has done in Madrid where, in 2021, despite the pandemic, language groups have been set, buddies have signed up, SPEAK'nics have been held, contact has been made with foundations and universities and so forth, while a permanent team established itself and grew.
Photos SPEAK
Useful links
https://www.speak.social/en/
https://www.ashoka.org/es-es/country/spain