For Claire Prat-Marca, director and founder of the Artivista association, street art is the best way to combine art and social issues, in close proximity to communities in difficulty. This is illustrated by the project "Be the change you want to see in the world", supported by Almayuda and carried out in Tripoli, the poorest city in Lebanon, in the Bab al-Tebbaneh neighbourhood, one of the most disadvantaged in the Mediterranean region.
The suburbs of Tripoli in northern Lebanon are a succession of unhealthy and neglected slums, such as Bab al-Tebbaneh. This neighbourhood is populated by about 60,000 residents, 60% of whom are Lebanese Sunni Muslims and 30% Syrian and Palestinian refugees. For a long time, it has experienced inter-communal tensions and violent clashes with the neighbouring Alawite residents of Jabal Mohsen. Today, misery and even diseases such as cholera, otherwise forgotten, mark the daily life of the inhabitants of Bab al-Tebbaneh.
It is in this place, devastated by the consequences of war, rivalries between local political figures, corruption and violence, that, after Brazil, Iraq, France and Colombia, the Artivista association carried out its new project in 2022: "Be the change you want to see in the world".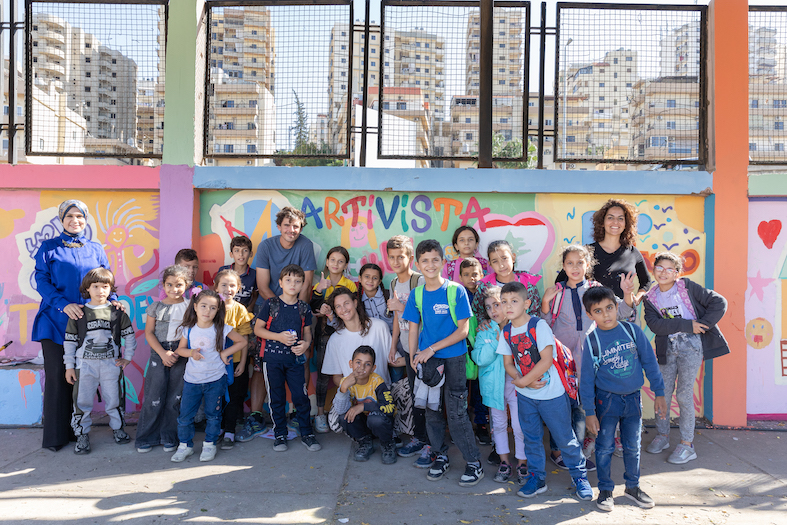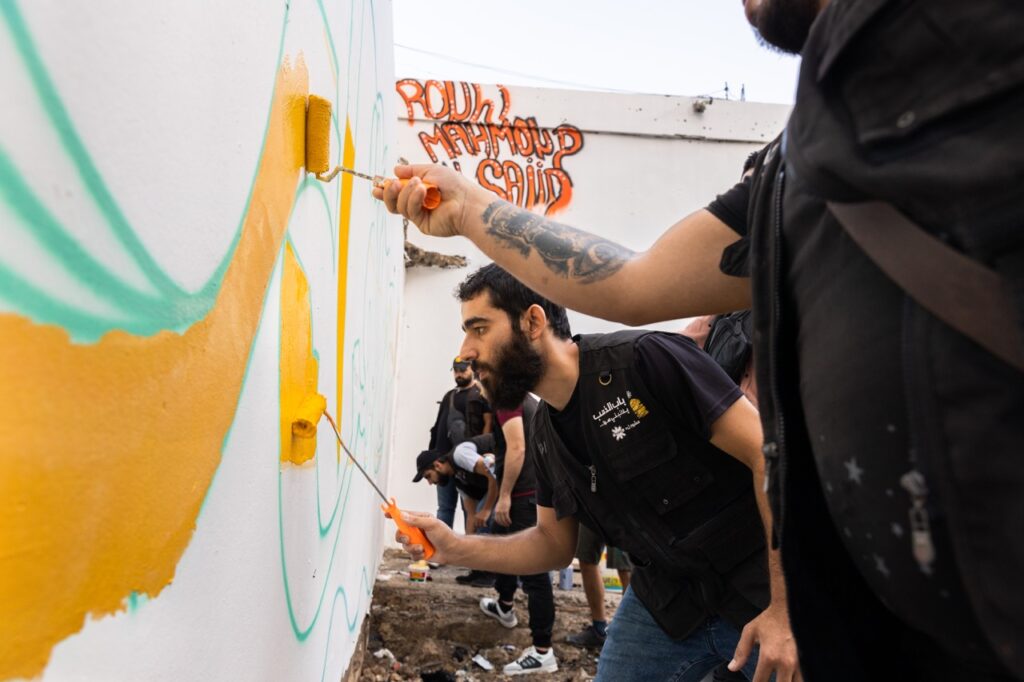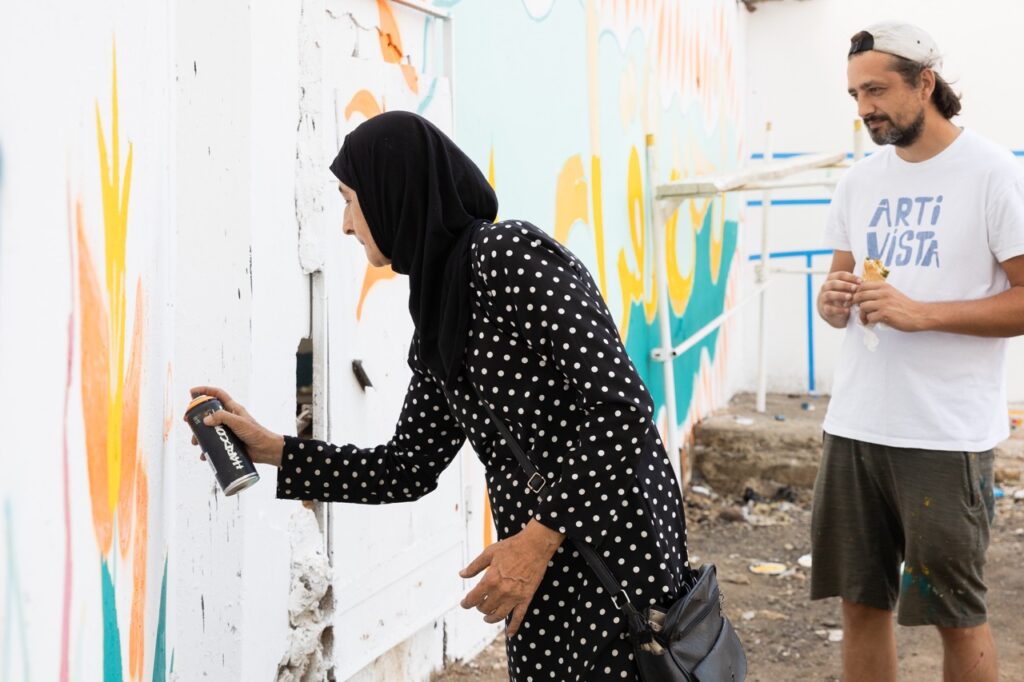 Street art to combine art and social issues
Driven by social and educational ambitions, the Artivista association, created in July 2017, organises street art exchanges involving muralists from two countries and their populations. In partnership with cities and local associations, it offers artists from all over the world the opportunity to take over spaces that are often not conducive to creative expression, such as sensitive neighbourhoods or those undergoing rehabilitation, hospitals, schools, etc.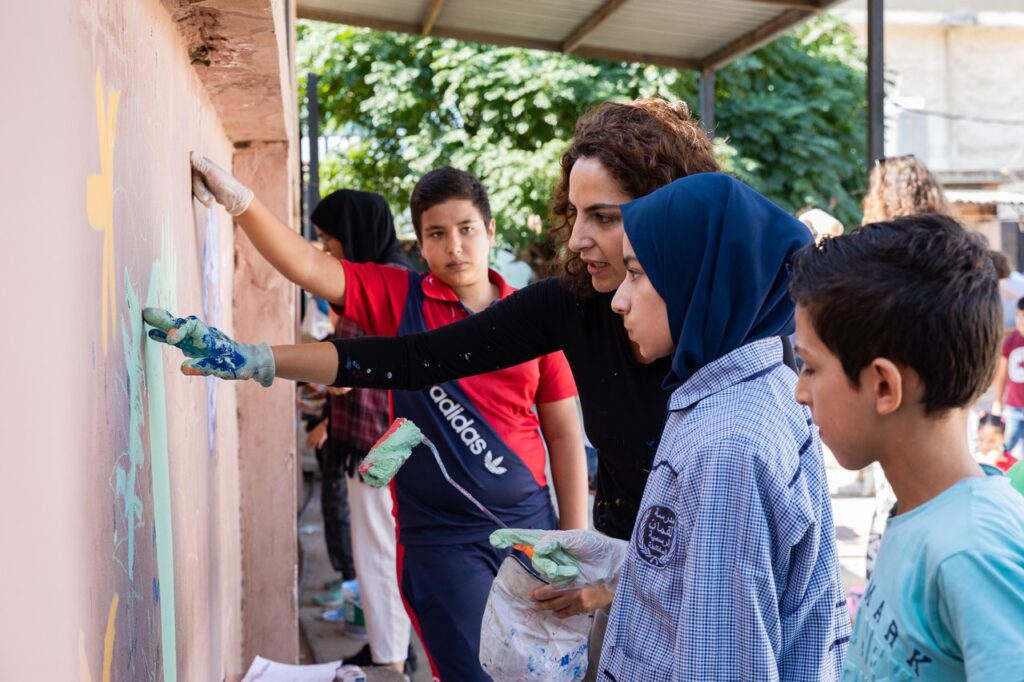 [/su_column]
Artivista's founder and director, Claire Prat Marca, has a professional background as an art director for several press groups, organisations and museums. She has created a travelling art gallery, in order to bring ephemeral exhibitions to private homes or unusual places. She is also behind the street art festival "Dans et sur les murs" ["In and on walls"], in Saint-Germain-en-Laye, France, where the National Archaeology Museum gives pride of place to cave art, the first expression of art on walls, in this case, cave walls!
Artivista, which wishes to offer everyone the opportunity to transform their living environment through artistic gesture and vision, was born of Claire's desire to "mix social and artistic aspects with street art".Artivista: chance encounters and projects 
Artivista: chance encounters and projects
The story began in Brazil, where Claire lived as a child. "I always kept in touch with my nanny's family at the time. We wanted to do something together, in her favela, and we thought it would be brilliant to organise art exchange programmes and allow artists to travel. This was the beginning of an adventure leading to the creation of permanent murals, which saw the participation of the local residents and school children, together with three French and four Brazilian artists, one of whom opened the door of his favela to us".
After Brazil came Mosul. "All of Artivista's projects are the result of chance encounters. In Iraq, it all started with my son who was covering the fall of Daesh with an Iraqi journalist. I wanted to do something with them, to share a bit of joie de vivre for a week with the local population and academics of the Fine Arts Institute of Mosul, who, for several years, were forced to hide their paintings, or bury their musical instruments… What came out of it was a huge, brightly-coloured, 200 sq m fresco, an artistic and political gesture that said: we are still here, there is still art in Iraq and Mosul!".
Then came the Robert Debré Hospital in Paris and an action in the Psychiatry Department. "Artists painted the surfaces around the playground, which could be seen from the patients' rooms. Each artist drew one of the days, the whole forming a story which ends with the stars. The hospitalised children contributed to its realization". Also in France, Artivista worked in the city of Saint Denis to embellish its living spaces in a permanent way.
Before Lebanon, there was Colombia "… in Dibulla, a fishing village near the border with Venezuela, plagued by prostitution and incest. Together with a children's aid NGO, we held visual workshops on the theme of respect for one's body… Then, in collaboration with a local association, we visited a school in a dangerous neighbourhood of Barranquilla. Our aim was to reclaim the neighbourhood for its inhabitants.".
« Be the change you want to see in the world »
This project, carried out in 2022 in Tripoli's Bab al-Tebbaneh district, came to life thanks to a convergence of factors: Claire Prat Marca's suddenly revealed Lebanese origins, the presence of her son, who has become a correspondent for Radio France in the country, and, as always, unlikely encounters; among these, Pia Abboud, a responsible tourism entrepreneur from Lebanon, Anthony Quéré, a French logistician who lives in Lebanon working for an NGO…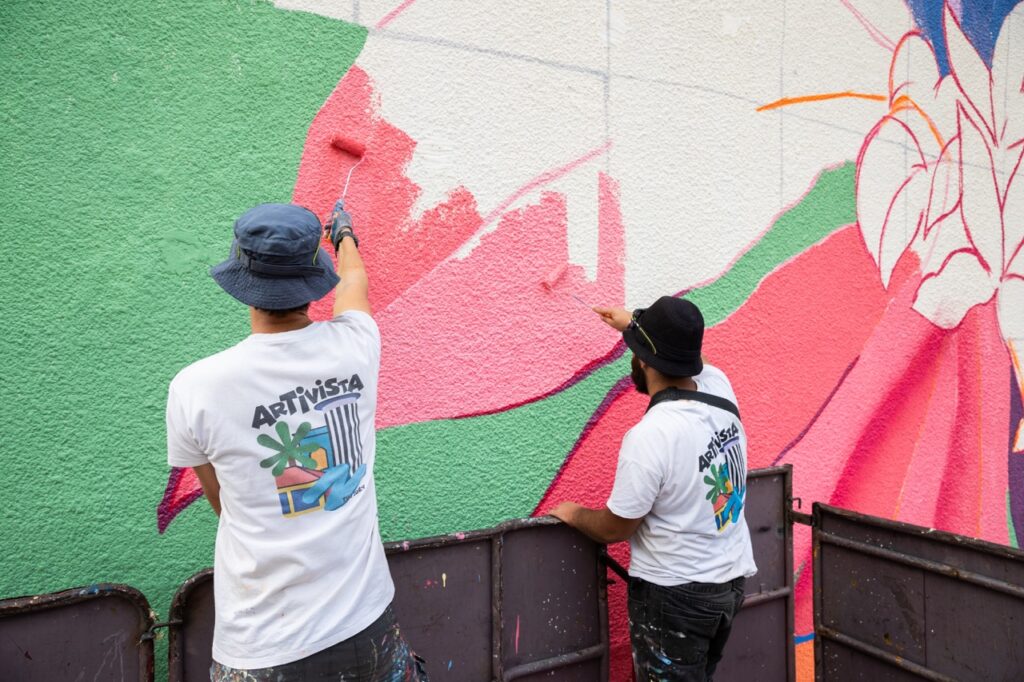 A small cohort of artists gathered around them. Abbrash, who grew up in Bab al-Tebbaneh, opened the doors of his neighbourhood. Exist created a link with Beirut's alternative scene. Mjay, whom they met by chance at the airport, is the only female muralist in Lebanon. This group of Lebanese graffiti artists was joined by the French designer Aurélie Andrés, the Parisian Jo Ber, and Tim Zdey, a street artist born in Hong Kong who has travelled along with Artivista on several projects.
"Be the change you want to see in the world" enjoyed the collaboration of MARCH, a Lebanese NGO which helps rebuild the lives of ex-convicts marked by war, and the support of AFD, the French Development Agency, expert in the fight against corruption. Artivista and MARCH organised several workshops in preparation for the project, such as an introduction to street art with young girls and boys from schools in Tripoli, as well as a workshop to reflect on the project with some twenty students from the prestigious Saint-Joseph University in Beirut. 
After collecting aerial work platforms from local companies so that the artists could have access to the 20- to 25-metre-high façades, the "construction site" was started on 10 October and finished on 22 October 2022.
Trees, a mermaid, a little boy…
If art is above all a pretext for sharing moments with local populations and improving their daily lives, the five giant works unveiled in the autumn of 2022 bear witness to the creativity and emotional power of the artists immersed in this collective adventure.
In a row, and slightly offset from each other, four building façades tell of hope and pain. There is first of all the face of a little black boy, painted by Abbrash, the artist from the neighbourhood. The boy's name was Mhamad El-Sayed and he was killed by a stray bullet in April 2022. His brothers and sisters accompanied the artist and the Artivista team throughout the completion of this pictorial tribute.
The next wall represents a cedar of Lebanon in a "comix" style. Each level of foliage corresponds to a sketch. Hanging from the trunk is a man with a hipster beard, a "lascar" cap, but also a tunic, sandals and a bracelet that evoke ancient Phoenicia. The whole ensemble attests to Jo Ber's dual passion for mythology and comics. From his platform, he had many contacts with the people in the building, notably a lady and her family who offered him warm smiles and coffee.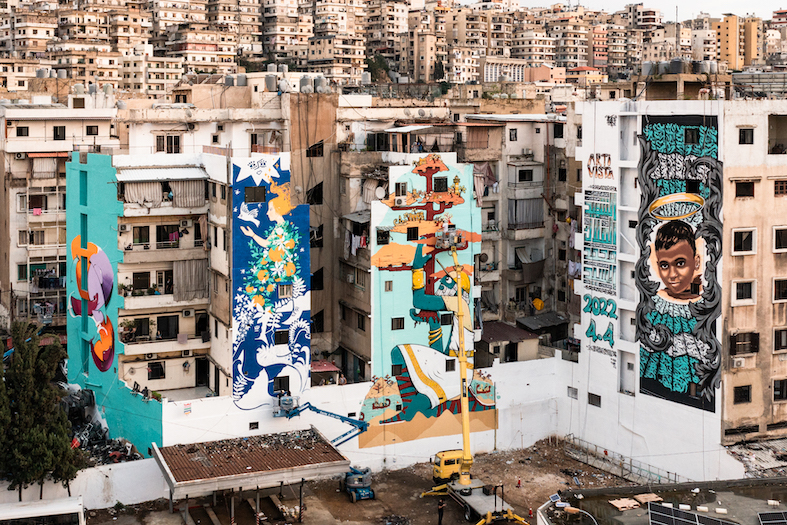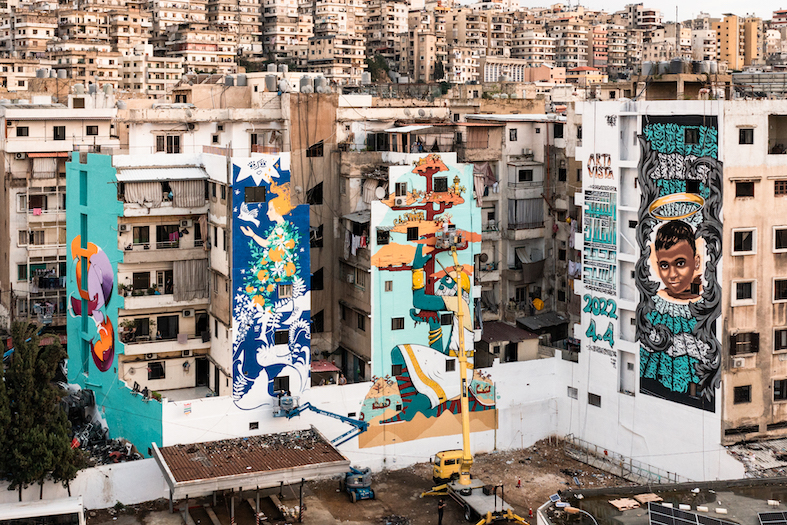 The next is a work by both Mjay and Aurélie Andrés, a vertical fresco showing the transformation of a woman into a mermaid. The dense and dominant hue of the sea shows how the French artist was influenced by the intense blue of the Moroccan city of Chefchaouen. The leaves and fruits recall the presence of oranges and orange trees in Tripoli.
The fourth façade, created by the Lebanese graffiti artist Exist, represents a letter of the Arabic alphabet, painted on a turquoise green background and diverted from its original meaning. A little apart from these four works, a Lebanese frangipani tree, created by Tim Zdey, lights up like a sun one of the neighbourhood schools. In addition to the large façades, participatory walls allowed the community's school children and residents to add a personal touch to the transformation of their daily lives.
The mural complex was inaugurated on 22 October 2022. A very simple celebration, surrounded by small street vendors, concluded an event whose scope Claire Prat Marca summarises as follows: "We knocked on all the doors of the buildings, met many women… Façades were rehabilitated, terraces renovated… These transformations made the local people happy, along with the school principal and the children… But there is so much to do, collecting the rubbish, fighting against cholera, which started to rage while we were completing this operation, re-starting public services…" 
So useful and modest at the same time! An illustration of the hummingbird effect, to which Almayuda was able to contribute in its own way.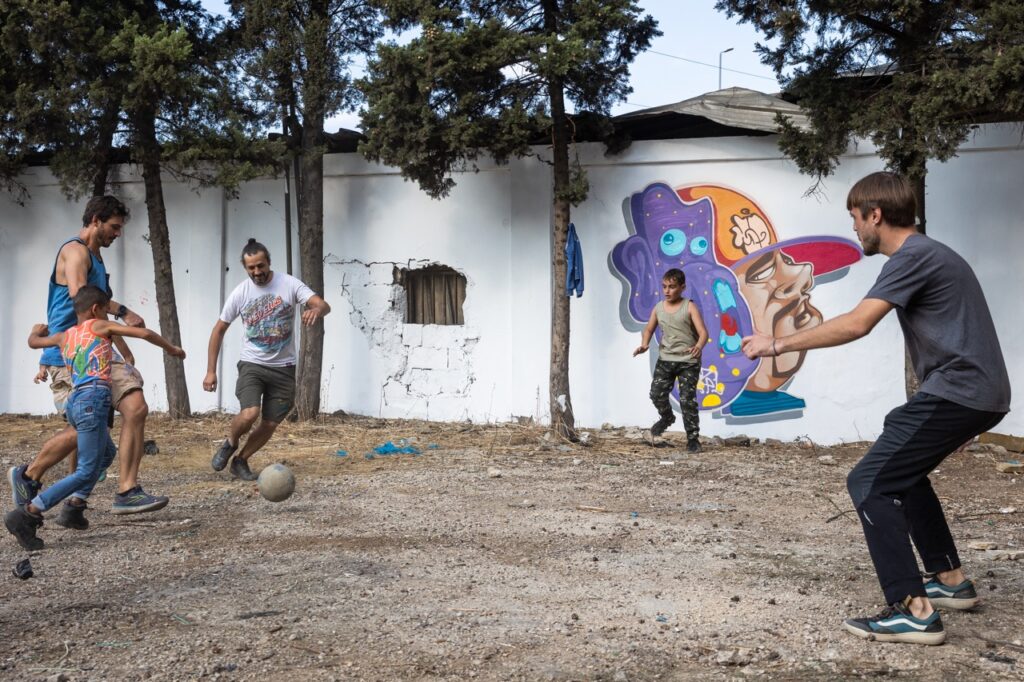 Photos : Thibault Lefébure
Useful link:
https://artivista.fr
https://www.youtube.com/watch?v=JHQrFsKhmKE